SURE FIRE™
ANTI NOSE-DIVE MAGAZINE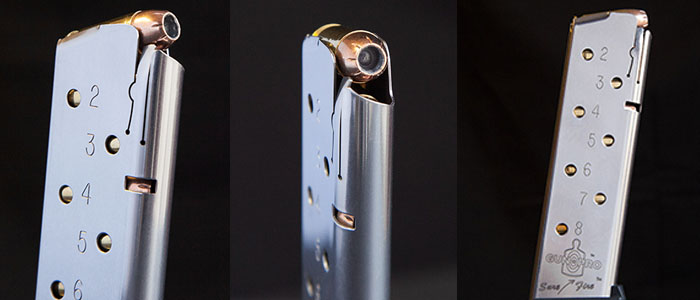 Due to the notorious gap between the top and following round, today's magazines have one serious shortcoming…Nose Dive jams. This physically presents a nose dive problem when the slide extracts the top cartridge from a firearm magazine frequently forcing the cartridge nose downward thereby jamming the slide.
Here at Gun Pro, we sought to solve this challenging issue and designed the new Gun Pro™ Sure Fire™ Anti Nose-Dive magazine so that you could be sure your firearm is cycling at its fastest speed possible, as smoothly as possible, and quite simply as reliable as possible.
Gun Pro's Sure Fire Anti Nose-Dive stainless magazines are made of the highest quality materials and craftsmanship. The Sure Fire™ magazine, with the new
"Nose-Dive Control Spring", increases reliability in ALL single stack 1911 pistols using standard RN or HP FMJ bullets. It's polished fitted tube, spring and follower provides smooth feeding while the newly patent pending Nose-Dive Control Assist Spring Tab offers reliable, controlled feeding angles from the first through the last round chambered.
Our Gun Pro™ magazines are designed and manufactured to ensure the highest quality that you deserve in an essential part of your firearm and are made right here in the U.S.A.
We reinvented the magazine so you can safely redefine performance!


View Product Video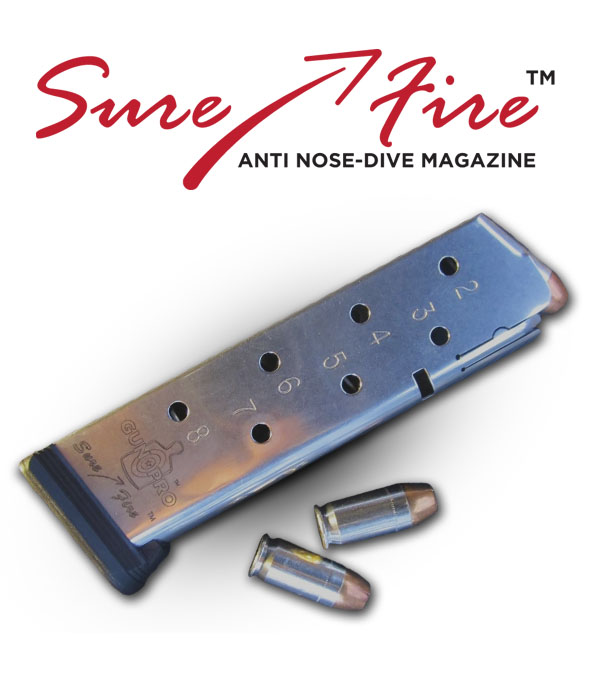 Now Available:
Govt. 1911, 8rd. Magazine w/ Removable Base Pad (Available)
.45 ACP 7 Round Compact/Officer's w/ Welded Floor Plate (on back order)
.45 ACP 6 Round Compact/Officer's w/ Welded Floor Plate (on back order)
Coming Soon: .45 ACP 10 Round w/ Removable Base Pad
BUY NOW!