Don Hart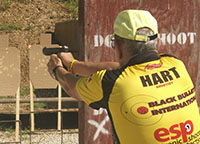 After shooting with the Delta 1 Sights® I'm convinced they are for me. They undeniably set up well for competition. I was able to get fast acquisition of the target and easily get the needed quick transition to the next target. The way the rear and front sights set up is amazing, they are much easier to align than other sights I have used in the past, you don't end up looking over the rear sight as you do with others, and in competition this is vital. I shot with the Delta 1 Sights® from 7 to 40 yards at poppers and IPSC cardboard targets and found them to be very accurate at all distances. I will definitely be using the Delta 1 Sights® in this year's upcoming competitions.
Melissa Wurm
I am new to shooting this year and have tried traditional sights along with the new Delta 1 Sights. I would have to say for me as a new shooter, using the Delta 1 Sights was a wonderful experience compared to standard sights on the Glock I tested. I'm not an expert by any means but I found that Gun Pro's Delta 1 Sights to be of excellent quality and extremely easy to see and align even in low light scenarios.
Paul K. Gewalt
I must say, I was impressed with the new Delta 1 Sights®. The wide-open rear sight lets you see the entire target area. Simply acquire the single point sight picture on the target or threat and eliminate it. With Delta 1 Sights® there is no multi-point sight alignment; just place the "X" on the target, shoot, and move on.
Tom Rolfson
I found the concept of the Delta 1 sights to be an instinctive means of fast and accurate target acquisition. I have my new students try several firearms, one tried a Glock 19 w/Delta 1's and commented: "Why don't all guns come with these?" I think that says it all!